Sewer cleaning is an indispensable activity where wastewater is present. In addition to domestic, urban and industrial environments, the water treatment of the bathrooms on board must also be carried out on the means of transport.
Every human activity, both domestic, industrial and agricultural, produces waste liquids containing organic and inorganic substances that are potentially harmful to the environment. For this reason, the anti-pollution regulations require purification treatment before the waste water is dispersed in waterways or land, in order to avoid contamination of surfaces, aquifers, rivers and seas.
Where there are no sewage drains, drain cleaning equipments are used to perform two main operations:
priming of mud and waste water;
emptying pipelines.
PTC produces a wide range of machinery dedicated to the so-called urban cleaning, also applicable for priming wastewater and mud in the event of flooding or for cleaning septic tanks.
Among these there are also machines dedicated to cleaning chemical toilets and emptying the toilets of trains.
The drain cleaning of the railway toilets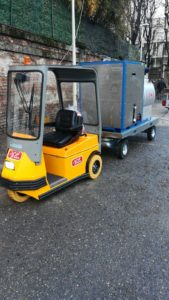 In trains, where it is not possible to connect a system of drainage pipes, the toilets are equipped with tanks that accumulate waste water which, periodically, must be emptied.
Public passenger transport, however, must ensure punctuality and comfort: for this reason, the disposal of waste water from the tanks of the toilets on board must be done quickly and without leaving any trace.
The drain cleaning operations are carried out by qualified personnel using a specific equipment called priming unit: these are systems that can prime or transfer any type of material – liquid, wet, granular, dust – and can be fixed, mobile or trolley-mounted, designed to facilitate purge operations and reduce deleterious downtime for the transport sector.
These particular sewer cleaning units are equipped with a suction pump that compresses the air creating the effect of the vacuum inside a stainless steel or galvanized iron tank. The movement of the vanes allows the suction of the material by opening a loading valve.
To empty the toilets, insert the special tube into the tank to be emptied, so that the pressure absorbs and primes sewage inside the tank.
The suction units are used to extract these materials that make the water unusable, depositing them in the tank of the machinery and then disposing of them properly. The watertight seal of the tanks prevents the escape of liquids or vapors during transport.
The Vortex are compact autonomous priming units, usable for the recovery and transport of non-hazardous liquids, sewage residues, sludge, semi-solids, oils, etc.
The range includes:
built-in units designed to be installed on small, medium and large commercial vehicles according to different needs;
portable units with electric or petrol engines, maximum ease of use and handling;
trailer units, professional trailers approved for road use.
They are transportable bleeding equipment, which can be installed on roll-off platforms or on trucks without modifying the vehicle.
They consist of:
professional vane vacuum pumps;
watertight stainless steel tank;
high pressure washing system in the combined version.
Equipped with resistant steel tanks of various sizes, depending on the needs they can be moved with forks or lifting hooks.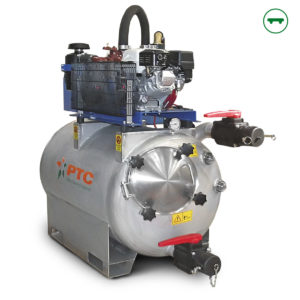 Vacuum resistant stainless steel tank
Handling with forks or lifting hooks
Honda petrol engine mod. GX 160
Professional vacuum pump with belt and pulley transmission
Engine panel with electric start
4-way manual valve for delivery / suction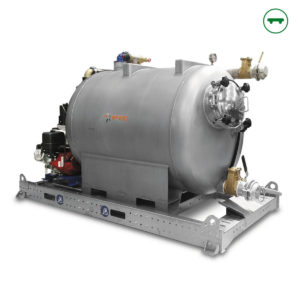 Honda GX 270 / GX 390 petrol engines
Professional vane vacuum pumps
Hook handling with bands or with fork lift
5 m hose Ø 80 mm, for extraction with quick coupling
Stainless steel tank (800/1000/2000 l), overflow valve, safety valve +0.5 bar, double level indicator
The combined PTC suction units are equipped with high pressure washing pumps (can reach up to 250 bar), necessary to remove residues without damaging the structural part of the pipes. The water comes out of a nozzle that cleans the inside of the pipes from encrustations, rust and sediments.
In particular, Vortex Combi is a suction unit equipped with a high pressure washing system. Thanks to a plastic water tank with a capacity of 500 liters and a manual HP reel with 50 meters hose, it can perform the double function of priming liquid residues and washing with a high pressure jet.
VORTEX COMBI 800 | Cleaning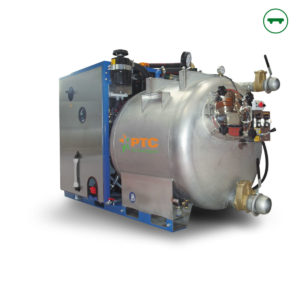 High quality steel frame with provision for lifting by forklift forks
N. 2 Yanmar L100 diesel engines
Professional vane vacuum pumps
HP Comet washing pumps
800 l stainless steel tank, overflow valve, safety valve +0.5 bar, double level indicator, manual fill / drain valve
200 l plastic water tank
Manual HP hose reel with 15 meters of hose
5 m hose Ø 80 mm, for extraction with quick coupling
VORTEX COMBI 1000 | Sewer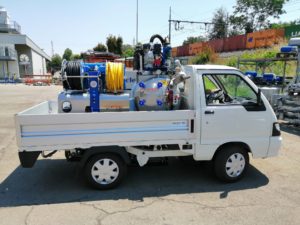 High quality steel frame with provision for lifting by forklift forks
Honda GX 390 / GX 690 petrol engines
Professional vane vacuum pumps
Forced lubrication
HP Comet TW Premium washing pumps
1000 l stainless steel tank, overflow valve, safety valve +0.5 bar, double level indicator, manual fill / drain valve
500 l plastic water tank
Multifunction radio control (ON / OFF, By-Pass, ± RPM)
Manual HP hose reel with 50 meters of hose
5 m hose Ø 80 mm, for extraction with quick coupling
Suction tip Ø 80 mm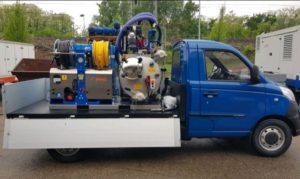 The PTC suction unit line is equipped with a series of accessories that further facilitate the purging and washing of the toilet tanks of trains and airplanes:
Gun kit with various types of washing lances
5 m hose Ø 60 mm for suction with quick coupling
5 m Ø 100 mm hose for suction with stainless steel quick coupling for tank unloading
Suction tube with rigid PVC tip Ø 60 mm for suction with valve
VORTEX COMBI 800 | Cleaning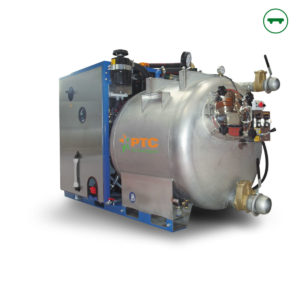 High quality steel frame with provision for lifting by forklift forks
N. 2 Yanmar L100 diesel engines
Professional vane vacuum pumps
HP Comet washing pumps
800 l stainless steel tank, overflow valve, safety valve +0.5 bar, double level indicator, manual fill / drain valve
200 l plastic water tank
Manual HP hose reel with 15 meters of hose
5 m hose Ø 80 mm, for extraction with quick coupling
VORTEX COMBI 1000 | Sewer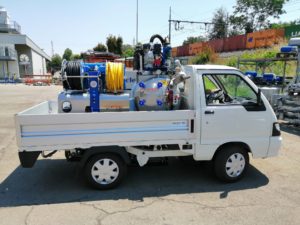 High quality steel frame with provision for lifting by forklift forks
Honda GX 390 / GX 690 petrol engines
Professional vane vacuum pumps
Forced lubrication
HP Comet TW Premium washing pumps
1000 l stainless steel tank, overflow valve, safety valve +0.5 bar, double level indicator, manual fill / drain valve
500 l plastic water tank
Multifunction radio control (ON / OFF, By-Pass, ± RPM)
Manual HP hose reel with 50 meters of hose
5 m hose Ø 80 mm, for extraction with quick coupling
Suction tip Ø 80 mm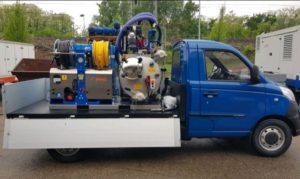 The PTC suction unit line is equipped with a series of accessories that further facilitate the purging and washing of the toilet tanks of trains and airplanes:
Gun kit with various types of washing lances
5 m hose Ø 60 mm for suction with quick coupling
5 m Ø 100 mm hose for suction with stainless steel quick coupling for tank unloading
Suction tube with rigid PVC tip Ø 60 mm for suction with valve